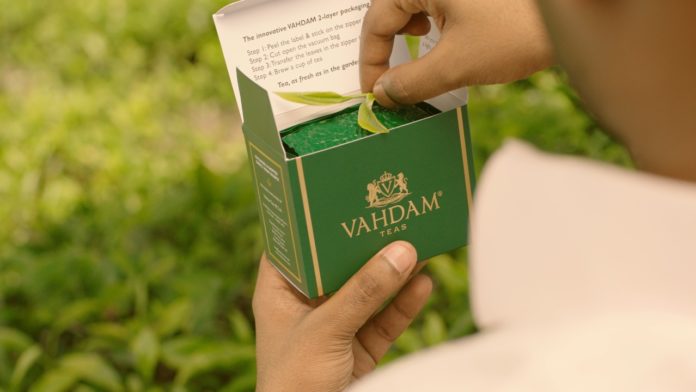 Vahdam Teas, home-grown premium tea and superfoods brand, has partnered with Specialty coffee brand, Blue Tokai Coffee Roasters, to offer a range of teas and herbal teas on their menu. Since dine-in is not an option amidst the lockdown, the collection of teas has been made available on Blue Tokai's website for delivery across India. These teas are also available to order through Zomato and Swiggy in Delhi, Mumbai, and Bangalore.
In a one-of-a-kind partnership wherein two brands have come together to offer the premium-quality, artisan teas and coffee together. Following a similar sourcing strategy, both the brands have worked with a 'no middlemen' supply chain. The teas and coffees are handpicked from India's choicest plantations or gardens, bringing them to consumers with added value and in the shortest time possible. According to the company, this marks a supply chain, without any middlemen, and being 'farm-to-cup'.
Vahdam's supply chain not only claims to bring consumers a fresher, better cup of tea but also helps retain most of the earnings at the source. The company states it as a win-win for both the consumers, as well as the farmers who fetch better prices for their efforts. Moreover, this aligns with Blue Tokai's philosophy of empowering Indian coffee farmers who nurture and produce some of the best Arabica coffee in the world but were forced to export most of it before the brand came into existence.
"Vahdam is excited to partner with Blue Tokai Roasters. Matt and Namrata have built a brand, and our values at Vahdam truly align with what they are building," says Bala Sarda, founder of Vahdam Teas.
Commenting on the partnership, Matt and Namrata, co-founders of Blue Tokai say, "We are excited to be partnering with Vahdam Teas. With their team, their focus on quality and sourcing direct from some of the best tea estates in the country resonates us."
Blue Tokai, a popular name in coffee circles, has been successfully shifting the paradigm of the coffee culture in India with its single estate coffees, roasted to the consumer's preference. The brand currently has three roasteries and 26 specialty cafes across the country.
Jeff Bezos recently awarded Vahdam the Global SMB of the year in person during his visit to India earlier this year. With home-grown brands like Vahdam and Blue Tokai penetrating the domestic market and channeling consumer demand for specialty teas and coffee, the landscape of India's caffeine culture is changing for the better.