99 Pancakes, which claims to be India's first pancakes QSR chain, has announced its entry into the fast-moving consumer goods (FMCG) segment, with its first product, Brownie Brittle Chips. The product range will be available in four variants – Almond, Pistachio, Strawberry, and Coffee. The Brownie Brittle Chips will be manufactured and marketed by the parent company, Euphoriya Hospitality, and sub-branded by 99 Pancakes.
99 Pancakes, which came into existence in 2017 with its first pancakes specialty outlet in Kala Ghoda, Mumbai, has more than 40 outlets across 15 cities such as Mumbai, Pune, Thane, Prayagraj, and Varanasi. With its entry into the FMCG segment, the brand aims to cater to the tastes of existing customers and snack lovers.
Vikesh Shah, founder of 99 Pancakes, said, "We started 99 Pancakes six years ago with a specialty product, pancakes, and have been able to penetrate the markets across India. The overwhelming response from our customers has given us the courage and motivation to further expand ourselves and venture into a new segment, fast-moving consumer goods. The Brownie Brittle Chips are our first product in the FMCG segment. With this product, we wish to strike the mid-meal snacking craving or a dessert after-meal. The different flavors that we're offering will match the taste buds of all generations."
99 Pancakes' Brownie Brittle Chips are typically cut into bite-sized pieces and are perfect for snacking, sharing, and adding to desserts, or are used as a topping for ice cream, yogurt, or pudding. These are crisp, thin, and crunchy made from chocolate brownie batter. "Going forward, in the FMCG segment, we'll soon launch many more consumable items," Shah says.
Brownie Brittle Chips are priced at Rs 110 and available in all offline and online stores of 99 Pancakes, Swiggy, and Zomato. Brownie Brittle Chips will soon be available on Amazon, Flipkart, Big Basket, Blinkit, Zepto, and more such marketplaces.
Franchising
The company has expanded into Uttar Pradesh with a recent franchise outlet in Prayagraj. The QSR outlet will be operated on a franchise-owned franchise-operated (FOFO) model. The new outlet in Prayagraj is located on Tej Bahadur Sapru Road. 99 Pancakes' Prayagraj outlet is the second in UP after Varanasi. It also has gained recognition for its innovative menu and collaborations with names such as Cartoon Network, Nickelodeon, and Rage Coffee.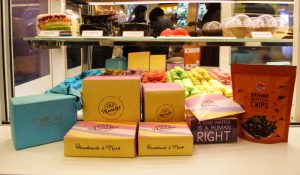 A variety of 99 Pancakes offerings will be available at the Prayagraj outlet. These include the signature 99 Pancakes Holland Pancakes, Waffles, French Crepes, and American Cheesy Pancakes, as well as perennial favorites such as King Kong Shakes, Iced Tea, Iced Coffee, Pizza & Garlic Bread, Tea, and Coffee.

Shah said, "We are incredibly excited to open our first location in Prayagraj. Our journey has been amazing up to this point. This is our second location in Uttar Pradesh, the first being Varanasi. We are thrilled and honored to deliver 99 Pancakes to Prayagraj after successfully welcoming customers in Varanasi. We strive to further extend our presence in India."