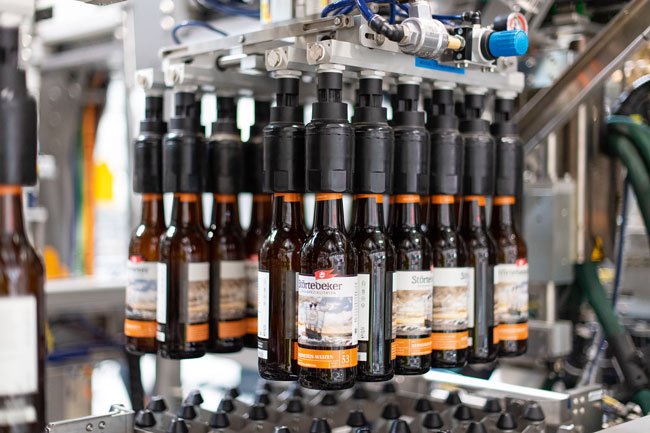 The Störtebeker Braumanufaktur shows pioneering spirit – regarding new types of beer and an extremely stringent marketing concept but also when it comes to expanding its production capacities. In its filling and packaging operations and IT and intralogistics, the brewery has now opted completely for Krones' technology, thus coping successfully with even highly complex production sequences.
Krones' scope of supply included a new energy-efficient bottling line rated at 40,000 returnable glass bottles an hour and a high-bay warehouse with just under 30,000 pallet slots from System Logistics full-coverage networking of the production operation with solutions from Syskron and Triacos. The existing bottling line, the new one, a kegging line, and the high-bay warehouse, plus the empties sorting system and goods dispatch zone, are all interconnected via a floor track system.
Highly complex Varioline
The principal task here was to streamline the complex work sequences involved, thus upgrading the production operation's efficiency. "As I always say, here on our premises, we've got ten breweries in one because each of our beers is packed in its sort-specific crate," is how Jürgen Nordmann, the owner of the Störtebeker Braumanufaktur, describes the situation. Störtebeker's beers are offered in the brewery's own uniquely distinctive crates and likewise in closed six-packs. This is why the brewery opted for the Varioline packaging system that can handle not only crates and closed baskets but another 16 different packaging variants as well.
Störtebeker's Varioline system is the most modern version currently up and running – since it is the first to feature the new TIA control system from Siemens, enabling a maximum degree of automation to be achieved. Another beneficial side effect is this – the layout installed at Störtebeker takes up only about half the space that a traditional packaging kit with the same output would need.
Holistically conceived logistics and IT concept
System Logistics delivered the fully automated high-bay warehouse and the associated warehouse control system. The warehouse with its eight aisles provides just under 30,000 slots served by six storage and retrieval units. The floor track system supplies the warehouse with empties, like bottles and crates, and ready-for-sale packages.
Furthermore, Störtebeker decided to have Syskron's subsidiary Triacos modify its existing SAP system to suit the new production landscape and link it to various IT solutions from Syskron's SitePilot Suite. These IT solutions include Syskron's Line Management, Line Diagnostics, and Manufacturing Intelligence. Thus, the brewery has succeeded in harmonizing purchase orders, business processes, and production planning with each other to optimum effect. Thanks to Edge Device, moreover, Störtebeker has integrated its existing Krones glass line into the overall concept.
"When we concluded the contract with Krones in 2017, it was important to us that Krones would be supplying not only the bottling line but also the intralogistics with the high-bay warehouse, and that the customizing work needed for the SAP system, plus the SitePilot automation solutions, were all constituent parts of the order," is how Jürgen Nordmann sums up their requirements. "We had already turned our attention to the subject of Industry 4.0 at quite an early stage and went looking for some suitable partners. With this investment, we have taken another crucial step in that direction, and we hope we're now in good shape to meet and master the challenges of the future."
Video: Whole new solution for bottling and logistics at Störtebeker Braumanufaktur – YouTube