BillerudKorsnäs and Syntegon Technology partnered the launch of their recyclable flow wrap, a paper-based packaging solution enabling a shift from conventional plastic to renewable and recyclable materials. The two jointly organized a webinar to project the solution's sustainability and machinery attributes.
BillerudKorsnäs' recyclable flow wrap is an innovative packaging solution based on primary fibers sourced from managed Swedish forests. The product enables shifting from conventional plastic to paper and is suitable for medium to high-barrier products such as chocolate bars and other confectionery. 
The meaning of sustainability
According to Louise Wohrne, manager of sustainability at BillerudKorsnäs, the company is one of the highest on the world sustainability index. She adds, "Driven by our ambition and continuous improvement in the diversity of perspectives, and our quest has resulted in an agenda for tackling major global challenges such as climate change and food waste. Manufacturing smarter renewable materials and the recyclable flow wrap is one example of this."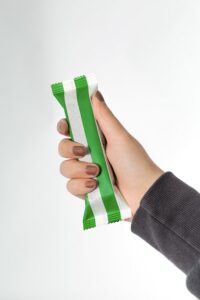 The awareness of these global challenges and particularly plastic leakage into the environment has increased significantly over the past few years, and regulations and industrial commitments to alleviate these are made daily, as stakeholders react quickly. "We can be a part of the solution to these challenges. Our mission is to challenge conventional packaging for a sustainable future. We are uniquely positioned to drive the circular economy's transition based on renewable and recyclable raw materials from forests. But to make this a reality, we need to push these solutions actively," she urged.
Enabling the shift from plastic to paper
Adam Tornqvist, application development manager, BillerudKorsnäs, explained the paper-making process. "With recyclable flow wrap, we invite you all to switch to paper. Plastic has numerous advantages as a packaging material, such as incorporating the barriers, high strength, and good printability. However, even if the plastic is made of any material, it is still plastic holding your hand. Paper has a very high percentage of recycling compared to plastic."
"The alternative that we have launched is barrier paper made from virgin fiber. Many years of research and testing led to the current cocktail of packaging, giving the barrier properties to the products such as chocolate." He explained the recyclable flow wrap's structure and properties, saying that the barrier is a water-based dispersion coating applied in two steps in-house at BillerudKorsnäs.
Switch to paper packaging
Christoph Langohr, project manager of Sustainability Horizontal Packaging, explained the effect of paper packaging on the packaging process. "When we talk to customers about the possible switch to paper packaging, customers often face the risk of losing product quality and productivity since the paper is a different material than conventional plastic."
According to him, handling paper on a system raises challenges, and Syntegon being a system supplier, is aware of the main challenges. "To make flow wraps future-proof, we need to take a holistic approach. We handle paper in the system without damaging the packages. Paper flow wrapped products require gentle handling and avoidance of damage to the barrier layer during loading. Our retrofit kit allows customers an easy transition to paper packaging on their existing Syntegon Packaging Systems horizontal flow wrapping machines without any restrictions regarding speed compared to the existing practice for cold-sealable paper."
Syntegon's PFI is one of the gentlest and fastest handling solutions in the market today, which turns the product into the correct position. "The customer feedback on the PFI has been very good. It has proven to an extremely reliable and robust," said Langohr.
Syntegon guides its partners through the change process and minimizes the risks during the journey. "We provide a step by step approach throughout the project, which minimizes the risk. For Syntegon, it is essential to be involved from the beginning to analyze needs, understand expectations, and to know which quality is required." 
In addition, Syntegon offers a feasibility check of the product because not all products are suitable for paper packaging. "We see if the chocolate bar fits with the demand of the shelf life, product properties like grease on paper packaging, and other. We also check how the shift from plastic packaging to paper packaging could affect the secondary packaging." 
Syntegon helps its customers to find the right paper for their products. "We also have a chance to produce a few samples to have a feeling of how the product looks in paper packaging. If the product has special requirements on the sealing integrity, we can offer a sealing quality investigation to determine if the quality expectations can be achieved with the paper."
BillerudKorsnäs recyclable flow wrap is verified and tested using Syntegon's paper-on-form retrofit upgrade kit. The Syntegon upgrade kit paper-on-form can be installed on existing horizontal flow wrapping machines and new flow wrappers from Syntegon Packaging Systems. The solution was engineered in Syntegon's development center in Beringen, Switzerland, and consists of a flow-wrap forming unit and sealing tools or paper cold-sealing applications.