For ALFT Packaging Company chairman Lakshman De Fonseka, the official opening of the company's new state-of-the-art flexo packaging production plant in August in Kotugoda, Sri Lanka, marked a return to his technological roots. It was through flexo lamination that De Fonseka first entered the printing industry 30 years ago, before building ALFT into a major force in packaging material production for the food industry.
Many of ALFT's brand owner customers were in the audience at the opening ceremony, along with local business and political leaders and the company's technology partners. Welcoming ALFT's investment in 'the best and latest technology,' Hajar Alafifi, chairperson and MD of Unilever Sri Lanka, predicted that, "Having such a facility will make Sri Lanka a prime partner for countries in South and Southeast Asia."
She vividly described what moving to flexo from gravure means to all brand owners. "Currently, we have to go to places such as Dubai for this work, which can take six weeks. Because we can now do it in Sri Lanka, we are more agile, more flexible, and faster to market."
In our recent conversation with De Fonseka, he said that the new ALFT plant was conceived five years ago at a time when the Sri Lankan packaging plants built earlier had not evolved. However, over the years, the brand owners had grown and were much more demanding. There was a need for compliance with global standards in packaging materials that had to be totally hygienic with no defects such as particles, artifacts, or color variations.
"Sometimes when you sent the packaging materials, there were some color variations and they sent back the whole lot," he says. "We were producing primary packaging, which should be produced in the same conditions as the brand owner's processing plants. For exports too, we wanted to have similar standards as the processing plants."
The plant in Kotugoda has been built with total hygiene and safety specifications. The floors are of stainless steel and the walls are covered with washable wallpaper, while various materials and consumables such as solvents are isolated in separate compartments.
In-house production for speed and total control
To reduce the dependence on imported gravure cylinders and enable ALFT to deliver primary flexible packaging materials within four or five days, the company invested in in-house flexo prepress and printing production at its new facility. It installed a Flexcel NX 4260 system, providing plates for its new Windmöller & Hölscher Miraflex II CI flexo 8-color press that is capable of printing at speeds of 500 meters a minute.
When we spoke to De Fonseka a couple of weeks ago, he reiterated that the new complete flexo production facility is a sign of the company's confidence in flexo's future. Investing in in-house flexo platemaking and printing gives it total control over production and delivers a host of benefits that are relevant to its customers.
"The faster turnaround with flexo is a particular advantage, enabling packaging design changes — to color or for regional variations — to be expedited. With gravure, we were talking about lead times of three to four weeks for cylinders, which all had to be imported. And if a cylinder was damaged during production, you waited 10 to 12 days for a replacement. Compare that to the 90 minutes to make new Flexcel NX plates, and the advantages are obvious," he said.
"We can guarantee to brands, the confidentiality that matters when they're launching new products and designs — something that can be an issue with gravure, given the time between releasing artwork and receiving cylinders."
Defect-free, efficient production is a key focus for ALFT right from the start of the new plant, says De Fonseka. When the new plant came up with its Bobst 9-color press and an AVT 100% defect detection gravure operation, the company took key staff to Japan to study that country's approach to efficient production.
More than a hundred staff have visited Japan for training not only for gaining skills but also to learn from the overall culture of hygiene and precision. Their learnings have inspired the company's new plant to replicate and implement the same approach, by building a state-of-the-art facility with stringent hygiene and cleaning standards. This has enabled ALFT to become the only packaging facility with an A+ rating in their BRC Global Food Safety Standards Certification in Sri Lanka today.
Choosing the right combination of technology
De Fonseka is gratified that his early enthusiasm for flexo has now been vindicated, with the technology widely acknowledged as a premium production method for flexible packaging. He credits the Flexcel NX flexo technology and plates for a good bit of that change, "The basic concept and design of the flexo CI press hasn't changed. What has changed is the prepress and platemaking upstream of the press, and this evolution has been supported by the anilox and ink manufacturers. So everything is now at the right level and going in the right direction."
Asked why ALFT chose the Flexcel NX system, he says simply, "The Flexcel NX System is a brilliant piece of equipment," adding, "Our philosophy is always to buy the best. If you choose anything other than the number one solution you're compromising, and you won't get the best out of the setup. It's for this reason that we also invested in the W&H Miraflex II press and Flexcel NX. Recognized as some of the flexo industry's best-in-class equipment, they work beautifully together, ensure fast changeovers, and enable faster turnaround times."
How Flexcel NX Plates perform on-press is especially important to ALFT. "The consistency of the plates means we can standardize the production process and get the maximum efficiency and productivity from the new press. It's also enabling us to move into Extended Color Gamut (ECG) for certain brands, which is another huge efficiency gain. Flexcel NX plates are also very durable, so we have fewer machine stops."
In our recent conversation, De Fonseka said that the technical personnel from Miraclon and W&H spent a few weeks training the plant personnel. One can presume this included the standardization required for the transition from CMYK plus spot colors on gravure to the change in-house flexo platemaking and running a CI flexo press and the ECG system of printing.
"One advantage we had was that we had no experience in flexo," he says. "From day one, all the procedures were laid down and we followed these like a science and it was quite easy for us. We change a job in about 15 minutes since there is no change of inks. Only the plates are changed and the W&H press, including the Ruby automation, is the highest specification CI flexo press in this part of the world. For some jobs, you can run it at 500 meters a minute. Depending on the design and the substrate you have to run it at the appropriate speed. Like driving a car you have to know when to change gears. On average, we are running the press at 380 to 400 meters a minute."
Moving from gravure to flexo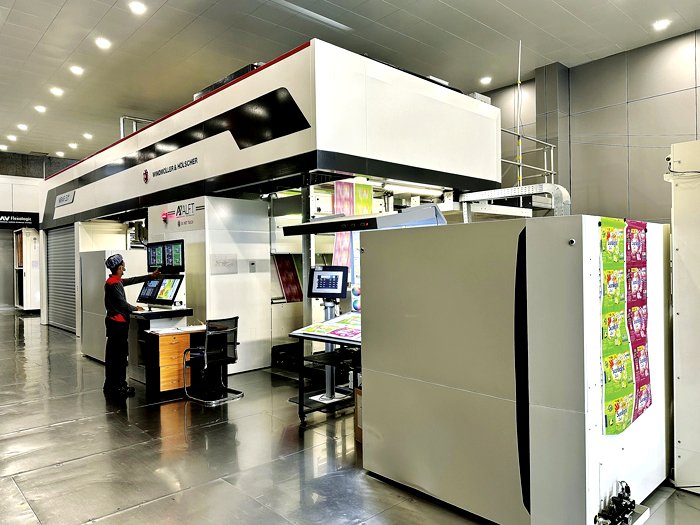 While De Fonseka acknowledges that gravure is still the dominant process in the Southeast and South Asian markets, in the future he foresees a steady migration to flexo. "It's just a question of changing customers' mindsets, and the best way to do that is to show them the results. So, we are gradually moving work previously gravure printed to flexo, with our customers' consent of course.
"Our approach is that whenever there's a change to a product, we take the opportunity to propose a flexo version. In our experience, as long as we can show brand owners that flexo quality is every bit as good as the gravure, they're very comfortable with the change. Especially when they get all the additional efficiency benefits that come with flexo."
De Fonseka admits that the fast evolution of flexo technology has been key to his comprehensive adoption of the technology from when he first started in flexible packaging, "At that time, gravure was the preferred choice of brands for quality tonal reproduction, so that was the direction we took, and where we stayed for the next 25 years or so. But it's a different story today. In terms of quality, we see no difference between gravure and flexo, thanks almost exclusively to the advances in plate imaging that Flexcel NX technology has made possible."