With consumers shifting their preferences towards more innovative packaged products, the food and beverages industry manufacturers in the APAC region are continually looking for new packaging solutions to help them not only to stand out from the competitors but also to respond to various needs of the consumers that trigger consumption, according to GlobalData.
Arvind Kaila, practice head of Consumer Beverages at GlobalData, says, "This competitive trend could be seen in many recent packaging launches, including new-age packaging graphics with playful, premium-looking designs and eco-friendly packaging materials, and packs designed for adding a personalized message for the recipient. Packs that are specially designed to encourage convenience are also growing in popularity."
According to GlobalData's Q3 2018 consumer survey, 85% of consumers from Asia and Australasia stated that their food or beverage product choice always often or somewhat depends on how enjoyable or unique the product is in terms and taste and packaging. Urban consumers are even more likely to choose novel products that are different from regular products and packed in an attractive and eco-friendly manner.
Consumers are more willing to experiment and indulge in new beverage categories, flavors, and pack types; manufacturers are responding by releasing unique-flavored variants and visually appealing eco-friendly packages customized to meet distinctive consumer needs.
In line with the trends discussed above, below is a selection of new packaging formats, designs, and value-added features used in beverage categories that enhance the consumer experience and help products to stand out from the competition.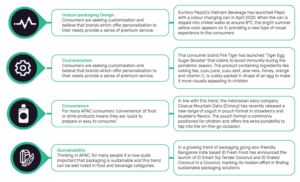 The unusual packaging formats like iD Smart Sip Tender Coconut can create a talking point in a busy sector and help to bring a product or the entire brand to a different level.
Kaila concludes, "Such specially designed packs clearly add value for the consumer and enhance the overall enjoyment of the consumption experience."