In summer 2021, Heidelberger Druckmaschinen AG (Heidelberg) launched the Generation 4 CutStar, the Speedmaster XL 106-D rotary die cutter, and a new performance package for in-mold label production on the Speedmaster XL 106. It is now further expanding this portfolio by entering into a worldwide distribution agreement with the Japanese company AN Corporation for the Kawahara TXS-1100 and Kawahara BMS-1100 automated postpress systems. This marks the global rollout of a pilot agreement concluded for the North America region last year.
"Heidelberg is systematically investing in the growth markets of packaging and label printing. The distribution agreement for Kawahara blanking systems adds a further key production step in the workflow to the company's label printing portfolio," says Rainer Hundsdörfer, chief executive officer of Heidelberg. "In this way, we are helping our customers further automate their processes and thus make them as efficient and cost-effective as possible," he explains.
As a result, Heidelberg now offers all the technology needed for a highly efficient workflow in industrial label production – from job creation, prepress, and plate imaging all the way through to printing, die-cutting, and fully automatic blank stripping.
The Kawahara TXS-1100 and Kawahara BMS-1100 blanking stations are both high-performance models. It takes less than 15 minutes to set up a job and tooling costs are minimal. The cycle of the TXS-1100, whereby a stack of 1,000 IML sheets can be quickly blanked and offloaded, takes between 1.5 and 2 minutes.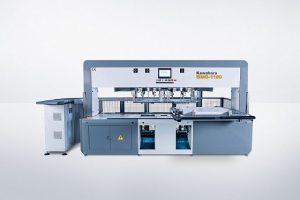 "The new Kawahara TXS-1100 is a high-performance system boasting enhanced components and an innovative feeder and unloading system. It is ideal for the in-mold label market and has proved an outstanding stripping and blanking solution for this label material, which is difficult to handle. The Kawahara BMS-1100 offers an excellent price-performance ratio for folding carton print shops that are looking to automate blanking," emphasizes Markus Höfer, head of Business Development Label at Heidelberg. The BMS-1100 can process up to 20 blank individual stacks of packages per minute and handles single cut and nested products equally well.
On 25 April, 2022, Heidelberg and Gallus will be welcoming existing and potential customers to Label Day in the Print Media Center at the Wiesloch-Walldorf site. One of the solutions on show will be a complete workflow for in-mold label production on a Speedmaster XL 106 press, a Speedmaster XL 106-D rotary die cutter, and a Kawahara TXS-1100 blanking station.