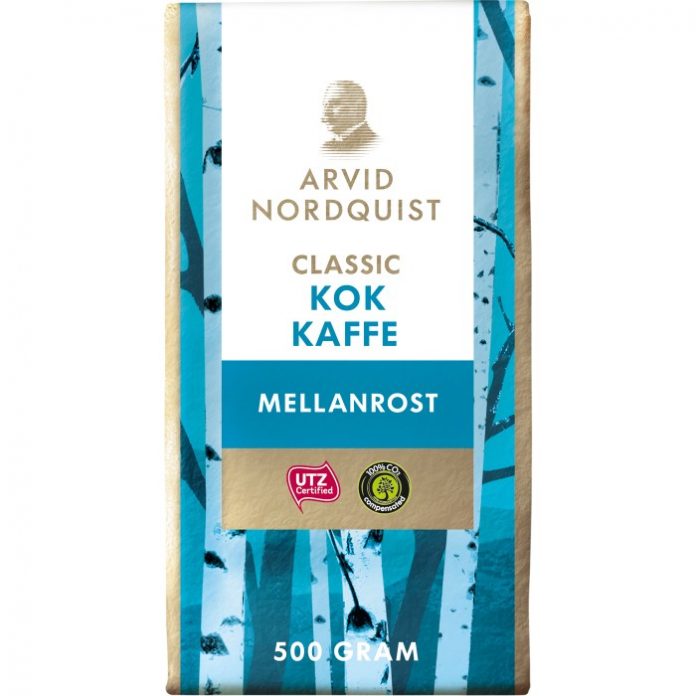 A concept as vast as sustainability is hard to pinpoint. Its many facets, however, present great opportunities, as they allow organizations across industries to implement sustainability according to their capabilities. Besides 100% sustainably certified beans and fossil-free distribution, Swedish coffee manufacturer Arvid Nordquist chose packaging materials and processes as key levers. With the latest vacuum packaging technology from Syntegon, the company is making great strides towards steadily reducing CO2 emissions and fossil-based film consumption.
Once the delight of artists and the nobility, coffee from Swedish roaster Arvid Nordquist is nowadays enjoyed by a broad base of coffee enthusiasts. The family-owned business has made a name for itself since its founding days in 1884 – and gained a firm foothold in Scandinavia and beyond. Today, Arvid Nordquist is the country's fastest-growing coffee brand with over 25% market share. The keys to the company's success are manifold, spanning high-quality raw materials as well as a strong commitment to fair and sustainable business practices. As a purchaser and roaster, the company relies on sustainable Arabica beans to ensure high quality across its entire range of ground coffee and whole beans. Just outside of Stockholm, the company processes the precious raw materials in its sole roasting house in Sweden.
Dedicated to sustainability
For Arvid Nordquist, however, there is more to sustainable products than the beans themselves – securing the livelihood of coffee workers proves equally important, as it helps build long-term relations with selected growers. 100% of Arvid Nordquist's coffee is sustainability certified by either Rainforest Alliance or Fairtrade. Coffee grown and harvested according to those certifications improves agricultural activities, the working environment, and workers' rights, as they actively contribute to combatting child labor and discrimination. Moreover, Arvid Nordquist's roastery has been gradually reducing the use of fossil fuels since 2017. Today, it is Sweden's first coffee roasting company that entirely runs on renewable energy. When it comes to domestic transport, the company aims to achieve the same by 2025. A biogas-powered truck already transports 100% of Arvid Nordquist's coffee from the roastery to the warehouse partner.
More coffee, less air
"We see ourselves as a conscientious contributor to society with a strong pledge to sustainable and responsible business operations," says CEO Anders Nordquist. "This not only includes raw materials, but also production, and especially packaging." As one of the many facets of sustainability, the film and packaging type used for coffee can greatly influence the product's environmental impact. "We run three vacuum packaging lines for ground coffee to reduce the amount of air per pack and allow energy-efficient transportation," he states.
Especially in Scandinavia, where transport routes are long, every gram counts. Compared to loosely filled stand-up bags, tight vacuum packs contain significantly more coffee and less air. One cubic meter of vacuum-packed coffee achieves a ratio of 94% coffee versus 6 percent air – a result that remains unmatched by any other type of coffee packaging. "In terms of sustainability, this is already a big leap, as we are able to ship larger volumes of product per transport and thus reduce each freight's CO2 footprint. But we seek to push the boundaries even further," Anders Nordquist says.
Rethinking packaging film
 While the vacuum pack itself offers little room for further optimization, the packaging material does. Traditional vacuum packages include multilayer composite materials with a significant amount of aluminum for easy formability. Given its sustainability goals, with support from Swiss film specialist O. Kleiner AG, Arvid Nordquist has gradually switched to a composite film without aluminum, the production of which is considered an environmental burden. As an alternative to fossil-based films, the current solution contains 90% of material from renewable resources, supporting Arvid Nordquist's CO2 reduction. However, the material comes with challenging characteristics. Just like any plastic, it is prone to regaining its initial shape after bending. "This so-called memory effect is all the more predominant as aluminum is missing from the material," Martin Kleiner, CEO at O. Kleiner, states.
"For this reason, we had to rethink the way we vacuum-pack our coffee, as traditional sealing and forming technologies can compromise the integrity of non-traditional films," Anders Nordquist explains. New films thus called for new equipment – and for support from long-term partner Syntegon. "Arvid Nordquist has been relying on the PKD vacuum packaging technology from Syntegon since the installation of their first vacuum packaging line in 1994," says Johan Hintze, CEO of Kafeco Nordic, Syntegon's long-term distributor in Scandinavia. "As an experienced partner, in 2021 we readily helped the company optimize their packaging operations with an updated version of the PKD."
The high-performance mandrel wheel packaging machine forms, fills and seals vacuum packs of ground coffee at high output rates of up to 130 packs per minute. Before switching to alternative films, Arvid Nordquist had been using a PKD model built to process aluminum and fossil-based films. But while the machine's heat sealing technology works well with traditional films that require high temperatures, it was no match for Arvid Nordquist's new packaging variants.
Revamped packaging technology
These require lower sealing temperatures and shorter sealing windows to prevent the outer film layer from melting and sticking to the sealing jaws – which is exactly what Syntegon's adapted PKD helps avoid. The latest model can not only seal at lower temperatures thanks to integrated heat protection on the sealing jaws. It also allows to form packaging materials more efficiently by using pre-heated tools to bypass the memory effect – which comes in handy for aluminum-free films. Thanks to servo drives, the mandrel wheel can further accommodate a larger variety of packs, adding to overall forming and packaging flexibility.
In early 2020, Arvid Nordquist settled for two of the latest PKD model for its coffee packaging operations. The latest PKD was one important asset to make even more sustainable vacuum packaging a reality. "Another important pillar was the close cooperation with O. Kleiner to fine-tune the film so that the PKD can process it with the same speed and at the same capacities as traditional materials," Anders Nordquist says. The company ran extensive tests with its film and packaging machinery partners. "We are happy that the trials were successful and allow us to run the desired film. This way, we can tick an important box on our list of goals."
Next stop: mono-laminates
This is not the last target that Arvid Nordquist is aiming for. The ingenious coffee lovers have already spotted yet another sustainability facet worth exploring. "Mono-laminate materials that can easily be recycled mechanically are a viable option we are actively pursuing," Anders Nordquist says. And yet again, the trustful partnership with Syntegon and O. Kleiner proves beneficial – thanks to its gentle sealing technology, the latest PKD series is ideally suited to run this type of material as well. O. Kleiner supports the development goals with its long-standing packaging expertise. "Trials are going well and faster than expected," Martin Kleiner states. Signs could not be more promising for a company as eager to attain full sustainability as Arvid Nordquist.