Frigel is all set to exhibit the main highlights of its portfolio of products tailored to the main plastic market segments and all other sectors dedicated to the injection molding of technical parts at PLAST 2023. The International Exhibition for plastic and rubber industries is going to happen from 5-8 September 2023 in Milan, Italy.
New machine-side solutions have been designed to ensure the maximum profitability and quickest ROI for the processor, leveraging productivity, product quality and process repeatability improvements. Driven by the fundamental purpose of "Engineering a more efficient and sustainable industry", Frigel is also bringing to the PLAST 2023 show some of its recent highlights in adiabatic cooling. Modular, scalable and flexible Frigel central chiller solutions are also offering opportunities for global plastic companies to adopt industrial cooling solutions designed to be installed anywhere, with full engineering and service support, leveraging the recent advancements of Frigel Industry 4.0 controls and connectivity platforms.
Machine Side Solutions
Microgel SYNCRO
Frigel presents on the market Microgel SYNCRO, the new on-side unit that revolutionizes the temperature control method in injection molding. Microgel Syncro technology allows for a drastic reduction in cycle time (up to 40%), while maintaining the surface quality, dimensional characteristics and mechanical performance of the finished product unaltered. The reduction of the total cycle time is obtained thanks to the reduction of the cooling time only: this result, achieved through the digital synchronization with the molding process, has the great advantage of not requiring a priori the modification of all the other molding parameters, making the system communicating with the press but completely autonomous and easily implemented by the operators.
The big difference compared to the traditional method consists in the fact that the Syncro control unit supplies cold water to the mold only in the cooling phase, drastically reducing its duration. The advantages for the customer are easily understood: increased productivity and profitability of the single production cell, against an investment with an average payback time of less than 6 months.
The Microgel SYNCRO product line features more than 10 models, with cooling capacities from 16 kW to 56 kW and heating capacities from 12 kW to 24 kW.
Microgel RS Series
The unique single-zone (RSM) and dual-zone (RSD) machine-side temperature control units are designed for molding throughputs ranging from 10 to 240 kg/hr. The new Microgel RS range includes important advancements in temperature accuracy over the entire control range (-5 to 90° C), functionalities, pumping performance and overall energy efficiency.
The RS range features additional configurations specifically designed for Packaging (RSP) and Extrusion (RSB). Options such as flow-meters, VFDs, return/remote temperature sensors are enabling full process control capability. Its new user interface offers a flawless experience and full connectivity and interoperability via the Frigel MiND platform.
Thermogel TDK Series
Frigel introduces advancements in its growingly popular direct injection pressurized water TCUs up to 120°C for applications in Automotive, Medical and any other Technical Molding sectors where accuracy, repeatability and process control are fundamental for the profitability of the IMM cell. The TDK units are fully adaptable to any molding condition and are equipped with reliable features and redundant safeties to operate over the entire temperature range. Flow meter options and connectivity to MiND™ or other Industry 4.0 architectures are enabling complete process monitoring and data recording.
Centralized Cooling Solutions
Ecodry MDK Series
Frigel expands its Adiabatic product family line, introducing the Ecodry MDK range, designed to allow the flexible configuration of modular adiabatic solutions for small to large plastic factories. MDK takes advantage of some of the technological advances already introduced in the LDK range (new efficient PADs, new generation of EC fans, modular design, wide and deep configuration).
MDK is characterized by a high efficiency humidification system (COOLPAD™) and by a new generation of EC fans which, combined with a more effective dry cooler, obtain a new level of compactness in a powerful new adiabatic cooler product line.
The new Ecodry MDK is designed to integrate easily into existing Ecodry 3DK systems, of which Frigel has an existing installation base of thousands of units, in addition to responding to the new needs of industries; energy efficiency, sustainability and saving of raw resources such as water.
Netgel MiND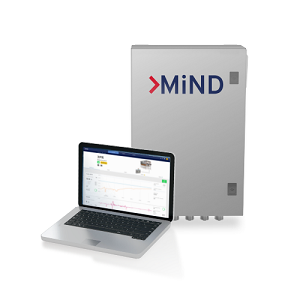 Frigel releases the MiND™ 2.0 platform, the evolution of its Industry 4.0 concept. MiND™ 2.0 is an innovative digital solution to meet the ever increasing needs of modern companies to reach Industry 4.0 and IIOT (Industrial Internet of Things) standards. MiND™ 2.0 is now able to provide customers a perfect supervision and maintenance tool for all Frigel equipment and accessories, both central and machine-side, allowing for monitoring and management of all working parameters and events and registering performance and energy consumption of every single cooling system component through a multifunctional user interface, both locally and remotely, through a user-friendly webpage.